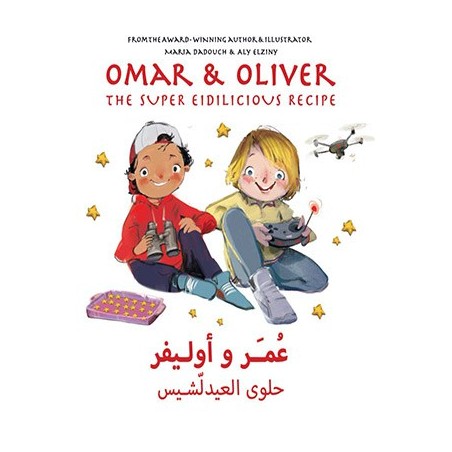  
Omar & Oliver The Super Eidilicious Recipe
Omar and Oliver is a cute tale about two little kids trying to accomplish their "Mission Eid Cookies" to be the best cookie cooks in the whole entire world!
This Arabic/English interfaith story was written for children raised in diverse cultures to help them:
• Develop a second language and expand their cultural awareness.
• Promote respect and empathy for all types of people.
• Enjoy Eid and Muslim holidays.
• Celebrate differences in their lives.
With one page in Arabic and one page in English, there are so many different ways to read, learn and enjoy this story.
This story would be the perfect addition to any public or Islamic school library.
Get double the fun every Eid making Judy's free healthy and starry Eid Cookie Recipe.
Author

Maria Dadouch

Illustrator

Ali Elzeiny

Publisher

Rummana Publishing Inc.

Date Published

05/05/2020

Total Pages

32

Type

Picture Book

ISBN-13

978-0999061084

Aisha's Rating

N/A

Possible Issues

Unreviewed

Reviewed

Unreviewed
8 other products in the same category: