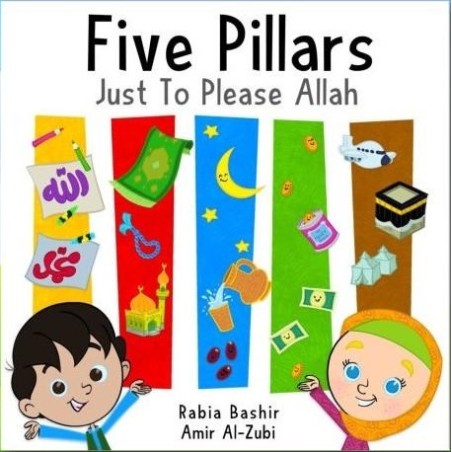  
Five pillars just to please Allah
A gem of a book for mini Muslims! It's a bright, bold and beautifully illustrated board-book teaching mini Muslims about the five pillars of Islam. It is written to the same tune of 'Row, row, row your boat' so children and adults are singing about Allah and Jannah too! Visit our website to see the wonderful reviews we have received through social media! The book is full of adorable diverse characters from around the world, providing positive role models for our little ones. There is a 'lift-the-flap' memory game at the end adding an element of fun and which enables the child to test their memory! The book answers the questions: What are the five pillars of Islam? What do we get if we do them? Doing things just to please Allah is a repeated message.
Author

Rabia Bashir

Illustrator

Amir Al-Zubi

Publisher

Precious Bees

Date Published

2017

Total Pages

12

Type

Board Book
Interactive Book

ISBN-13

978-1999743208

Aisha's Rating

Possible Issues

None

Reviewed

Reviewed
Our Review

Why I like it:
It's a board book which goes perfect with the age group the book is aimed for.

There's a little lift the flap activity at the back.

It introduces many concepts/words such as – shahada, salah, ramadan, hajj, and zakah.

It's a rhyming book so even if the little ones can't read yet, they'll be sining the song.

The illustrations show so much diversity in the ethnicities and abilities.
Things that could be improved:
I didn't like the word "treasure" Ramadan. It's a little thing and doesn't effect the story. But since the book is aimed for toddlers an easier word like "love" would have been better.

Some of the parents didn't like "Just To Please Allah". I couldn't think of an alternative so I'm not complaining. But just wanted to put out there that a few parents had an issue with the wording.
Activities:
Talk to your children about the 5 pillars, and have them draw a picture for each (don't forget to hang it up!)

Talk to your children about the diversity seen the children. Talk about how they are all the same and how they are different. Have them guess where they think the children are from based on their clothing.

Watch the video for the book on Youtube
Overall:
I liked the book and would recommend it to parents of babies and toddlers!
8 other products in the same category: