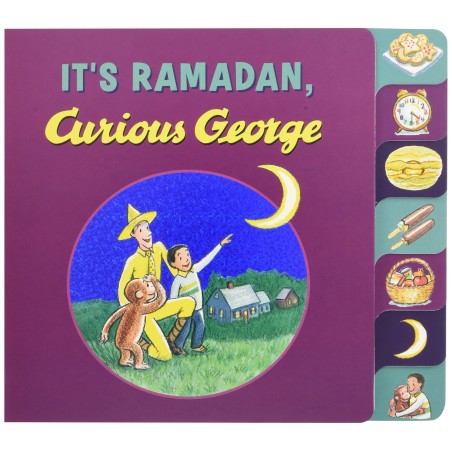  
It's Ramadan, Curious George
It's the first day of Ramadan, and George is celebrating with his friend Kareem and his family. George helps Kareem with his first fast and joins in the evening celebration of tasting treats and enjoying a special meal. Then, George helps make gift baskets to donate to the needy, and watches for the crescent moon with the man in the yellow hat. Finally George joins in the Eid festivities to mark the end of his very first Ramadan. This playful tabbed board book, with a foil-stamped cover, makes a great holiday gift for all fans of Curious George—those who celebrate Ramadan, and those who are learning about it for the first time!
Author

Hena Khan

Illustrator

Mary O'Keefe Young

Publisher

Houghton Mifflin Harcourt

Date Published

05/03/2016

Total Pages

14

Type

Board Book

ISBN-13

978-0544652262

Aisha's Rating

Possible Issues

None

Reviewed

Reviewed
Our Review

Brief Synopsis: 
It's a tabbed board book with 7 tabs.  The first tab titled "A Special Month" talks about how ramadan will start tomorrow and the preps everyone is doing. The next tab is about the "Day of Fasting", which follows Kareem and George as they wake up for suhoor. It's about keeping busy when you're hungry. This is followed by "Waiting fun Sunset" where everyone gathers together and waits for Iftar. The author hasn't actually used the words "suhoor" and "iftaar", instead it is an "early meal" and "time to break fast". Then comes "It's Dinnertime", which shows a people coming together to eat food from various cultures like kabobs, curry and a pizza! They also had a treat for Kareem's first fast! "Sharing with Others" is the next page on which Kareem invites George to the mosque where they are holding a Food Drive. George being George thinks all the shelf of shoes in the mosque is for donation. The imam laughs and says that next year they can have a clothes drive. The next tab is "Spotting the Moon" where Ramadan is over and they look at the crescent moon that announces that Eid is the next day. Kareem gives George a fancy vest and a yellow fez for the man in the yellow hat. The last tab "An Eid Celebration", is about how everyone is dressed up (illustrations show various cultural clothes), and feasts and have fun together at the masjid. The story ends with George going back home and thinking of how his first Ramadan had gone. 
*The illustrations are similar to the classic Curious George stories, and not the newer PBS kids show one
Why I like it: 
For kids who love Curious George it's a must have!

It's great to see familiar characters including a "Ramadan" book for kids

It's a board book so its durable and can be used for all age groups

The story covers main topics of Ramadan and has a page about Eid too

It's in rhyming form!

Kids also like the sparkly front cover. 

Lots of cultural diversity in the illustrations

On the first page, it shows the man in the yellow hat hanging a ramadan mubarak banner. They've done a great job in incorporating George's character into the story and how he wants to help Kareem try fasting. 

On one of the pages I liked how the author incorporated "the room is filled with peaceful sounds of prayer" when George and Kareem are breaking their fast with a date and treats.

I absolutely LOVE the page at the masjid. Not only does it show George being George (and goofing up) but it also encourages kids to hold Food Drives or a Clothes Drive during Ramadan at their local masjid!

I like how they introduced cultural elements. I found Kareem's gift to the man very thoughtful. As he is known for his "yellow hat", the "yellow fez" was very apt to the man's unique feature.
Things that could be improved: 
The second page has Curious George playing a major role in helping Kareem not break his fast — this has had mixed views. While some parents said that Curious George is the main character of the story and he needs to be doing something on each page to make the story work. Others argue that Kareem shouldn't have been breaking his fast, and the fact George has to "make sure" he doesn't break it makes it seem like the boy was 'forced' to fast. I've included the page so you can make your own decision.
Additional Activities:
Color pictures of curious george (so many on google)

Make a "Curious George and Me" Ramadan card for friends where kids can draw themselves with George

Make crescent or star cookies like Curious George and Kareem

Make a Ramadan Mubarak banner

For kids attempting their first fast, have them write down ways they can stay busy so they don't think about food

Talk about different foods people use to break fast around the world. How did the Prophet break his fast?

Organize a food drive or clothes drive in your community. If that's not possible, have one in your circle of friends and family. 

Talk to your local imam and have a Toy Drive at the masjid. 

If your kid is receiving a lot of toys this Eid, you can have them choose one toy to donate to others. Yes it would be INCREDIBLY hard for a child to do, but its an excellent lesson in compassion for others. It is much easier for a child to give an "old toy" but giving a shiny brand new gift would build a lot of character. (Obviously this is something you would tell them at least a week or two in advance and not just spring it on them when they're opening up their gifts!)

Talk about how thoughtful Kareem's gifts were. If you have friends and family near by who you give Eid Gifts to, sit down with your child and talk about things that the person would like. Include them in the gift giving process and have them come up with a "thoughtful gift". 

When Ramadan is over, take your child for "moon sighting". There's many ideas for easy binocular crafts on Pinterest. Just adding a small craft makes the activity more exciting and SPECIAL for kids. 

Talk about the different clothes people wear at the Masjid. When you go to the masjid, have your child POLITELY ask people about the different clothes they are wearing and from what country their roots are. This is an excellent hands on "social studies" activity. 

Pinterest Board: 
Overall: 
Overall, while it's a board book it's geared more for the 4+ age group. It's actually a great book for all elementary kids, and I would highly recommend it. The author doesn't talk about religion, or WHY people fast, or use any Arabic words. It's just about Ramadan and HOW muslims celebrate it as part of the American/western lifestyle. That makes it very appropriate for the age group. Also it's one of those books I would send in Ramadan gift baskets to neighbours/co-workers, or into a child's classroom so that teachers can share with the class. 
Other Reviews:
Ramadan Books in Nadias Nook - (Read aloud on Youtube)
8 other products in the same category: