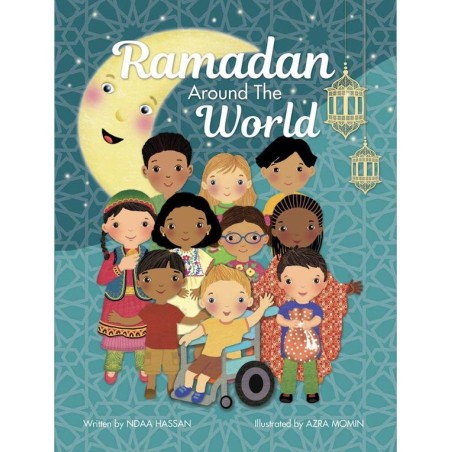  
Ramadan Around the World
Join the Ramadan Moon as it travels the world to visit children and their families observing Ramadan. Ramadan Around The World showcases how various cultures celebrate the Islamic holiday. The purpose of this book is to illustrate the diversity of the global Muslim community. Children of various nationalities and abilities are represented throughout the book. Families of diverse sizes and demographics have also been equally represented. This book is an adventurous read for children and useful as an educational tool for educators.
Author

Ndaa Hassan

Illustrator

Azra Momin

Publisher

Independently Published

Date Published

01/01/2018

Total Pages

40

Type

Picture Book

ISBN-13

978-1732097001

Aisha's Rating

Possible Issues

None

Reviewed

Reviewed
Our Review

Why I like it:
It's very well written! 

The illustrations are gorgeous with so many talking points for your children. Seriously there's a whole social studies unit in one book! A must have for homeschoolers!

Countries included are USA, Mexico, Brazil, Senegal, Morocco, Scotland, Turkey, Egypt, Palestine, Saudi Arabia, Pakistan, Malaysia, and Australia.

Cultural elements include tortilladora, masa, boubou, henna, mesaharaty, Karagoz, fawanees, kunafa, rooh-Afza, bubur lambuk, date suq etc. They are included in the glossary at end. A lot of these were new for me, and I had to look them up to teach my kids what they were! So as a parent I really appreciated that this picture book was educational for adults as well! 

Islamic topics this book covers are sadaqa, dua before iftar, drinking water a few sips at a time, recitation of the Quran, suhoor, giving toys to children at the orphanage, moon sighting, the phrase "Alhumdulillah", adhan and praying at the masjid, sharing food with others, taraweeh, etc. ALL of these are excellent discussion points with your children. 

It's inclusive of South American Muslims who we unfortunately see very less in Islamic Kidlit!! 

There is representation of children with autism, hearing impairment, diabetes, WITHOUT being the central topic! It's a regular Ramadan story with inclusion! And one of the illustrations shows a child in a wheelchair. 

Mosques in the Illustrations include Masjid-al-Nabwi in Medina, Masjid-Al Aqsa, Great Mosque of Touba, and Ubudiah Mosque- Kids can look up masjids in all the countries mentioned.

This book is an awesome resource for k-12 and even adults! Because you can get into a LOT of details with this book, as a parent you can choose how in-depth you want to go depending on your kids level. This also means, it's not a book your kiddos will "outgrow" anytime soon. 

It teaches kids that Ramadan can be CULTURALLY celebrated in different ways all over the world, yet the RELIGIOUS aspects are what connects us all. For example not everyone drinks Rooh-Afza but all Muslims have iftar!
Things that could be improved:
The author included Dallas, Texas (and not USA) while almost all the others are cities and countries! Also with Madinah, it doesn't mention Saudi Arabia. Penang is a state in Malaysia and not a city. It would have been nice to have all the cities, and countries.

Also Amin is in Penang, Malaysia, but the masjid in the Illustration looks like the Ubudiah Mosque which is in Perak Malaysia. While the name of the masjid isn't mentioned, because of its unique features it's hard to pass it off as a 'random masjid' so I hope the author makes some sort of changes on this.

It may have been better if the author used football instead of soccer because that's what its called in Brazil (and that's who that page is representing). It makes it easier to understand for American kids, but most people around the world call that sport football.
Activities:
You can make a sadqa jar with your kids, and have them donate a few coins per day. (Remind them it's about being consistent and the intention, and not the amount of money!)

If you are a parent that bakes, you can make crescent shaped cookies and let your kids decorate it!

Look up a recipe for tortilla (or buy them at the store) and introduce a different type of bread/roti to your kids. On the Brazil page, I'm assuming that the illustrator has drawn coxinha. You can search for the different national dishes of the countries and try those. There's also Egyptian, Palestinian, Malaysian food depicted in the pictures which you can try cooking with your kids (or head to a nearby ethnic restaurant!) Kids can also try what a Pakistani Rooh-afza is!

You can  have your kids "research" each of the countries and have them do mini presentations about each of them. You can use the illustrations in the book as a guide to finding cultural items. For example the woman on the Mexico page is wearing a traditional mexican dress and while the author doesn't label it as huipiles you can send your kids to search what traditional dresses are worn in Mexico and get to that conclusion! They can do a whole "clothes around the world" mini activity. For example for Senegal, they can design their own boubou. They can also do a compare and contrast activity with what they wear at home. 

Kids can design their own saltillo blankets or chatais. 

You can talk about world soccer, and have your kids design their own soccer t-shirts. This can be extended to various sports around the world.

The kids can try henna art! (Because it lasts for a while I would have them draw on their feet! LOL)

Another mini unit that kids can do is "Mosques around the World". Four masjids are shown in the illustrations, kids can research famous masjids in the other countries as well. Plus depending on their age, you can talk about the different architecture of the masjids and what they all have in common. 

While reading about Morocco kids do a mesaharaty drum craft, and pretend to wake everyone up around the house for suhoor. 

Children can learn how to sign Alhumdulillah and other Islamic phrases in ASL! Parents can talk about Autism, Hearing Impairment, Diabetes, and why a child may need a wheelchair and extend this to lesson on being kind to everyone.

Children can have a toy drive or donate a few toys to children in an orphanage. While you can preach to your kids about appreciating what they have and how they are people around the world who have less, I believe this is the best way to achieve the goal. It's hands-on and benefits both your child and other children!

DIY puppets is a fun activity for kids. They can put on their own Ramadan puppet show for family and friends.

Similarly, kids can make their own fawanees- paper lanterns crafts! If Ramadan decorations is your thing, have your kids prepare for Ramadan and have them make homemade decorations starting a few weeks before. This not only allows your kids to be creative, they will be proud of their work throughout Ramadan. (Plus it'll save you money on commercial decorations!) 

If you homeschool, at the end of the "around the world unit" you can have a pretend Ramadan Food Festival where kids showcase their crafts from the different cultures and maybe have craft food (or real food) from the various countries. 
Overall:
This is a MUST HAVE book in your library. It is by far our favorite book about Ramadan. It has so many things kids can relate to, and also new things that they can learn about! What makes it even more special to me is the inclusion of children with different abilities. This book truly shows the diversity in the Muslim world, as well as something that connects as all – Ramadan! 
For little kids, read this slowly with one or two pages a day and really talk about it. For older kids put it together with a map and it becomes a great educational resource to teach social studies! And a whole unit of exploring people/cultures around the world! You can use it with mini units of "clothes/food around the world" or "mosques around the world".
So if you don't have this on your bookshelf… go order it now! It's really THAT amazing. Also consider donating these books to your public libraries! 
Other Reviews:
Read Aloud on Youtube
8 other products in the same category: