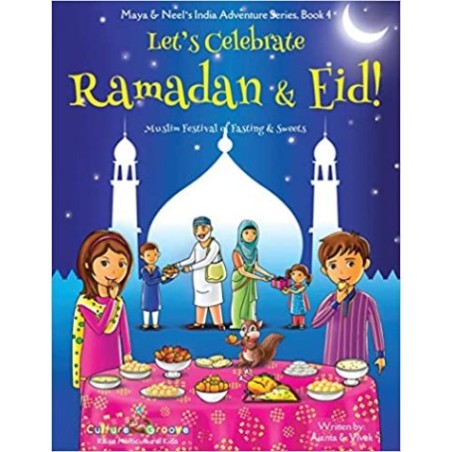  
Let's Celebrate Ramadan & Eid!
From the Bestselling authors of Culture Groove, here is a book on Ramadan & Eid that highlights the cultural aspects of the festival and its roots in gratitude and helping those in need.
Maya, Neel and their famous pet squirrel Chintu fly to India for yet another fun adventure. This time, they get to experience all about Ramadan including the vibrant markets of Chand Raat (night of the moon), the famous Jama Masjid, the delicious food, the exciting Eidi gifts and even a trip to volunteer at the local shelter.
Each book is written with a mission of helping RAISE MULTICULTURAL KIDS or helping kids CONNECT TO THEIR ROOTS.
Author

Ajanta Chakraborty
Vivek Kumar

Illustrator

N/A

Publisher

Bollywood Groove

Date Published

05/29/2017

Total Pages

40

Type

Picture Book

ISBN-13

978-1945792113

Aisha's Rating

N/A

Possible Issues

Unreviewed

Reviewed

Unreviewed
Our Review
Currently Unavailable
Other Reviews:
Read Aloud on Youtube
8 other products in the same category: