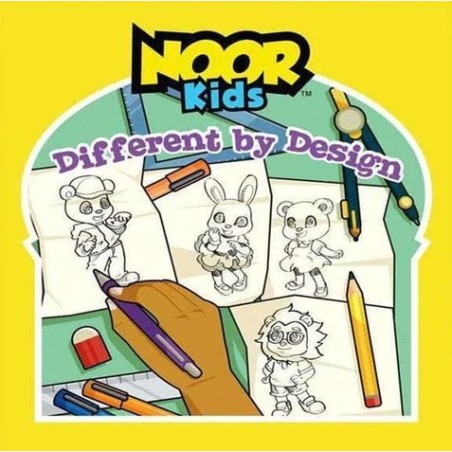  
Noor Kids: Different By Design
Author

Noor Kids

Illustrator

Noor Kids

Publisher

Noor Kids

Date Published

N/A

Total Pages

N/A

Type

Comic Book
Picture Book

ISBN-13

N/A

Aisha's Rating

N/A

Possible Issues

Unreviewed

Reviewed

Unreviewed
Our Review
Synopsis:
In the society in which we live, it's often the case that we are taught to embrace diversity or celebrate diversity in order to get along with others. Diversity reminds us of Allah's (SWT) immense power as the Creator of all. By recognizing the differences among us, yet knowing we are all designed by the same entity, we can have a greater appreciation of Allah (SWT).
This is especially true when we encounter those whom Allah (SWT) has created differently-abled. In our first story, "Can't You See?" Asad meets Auntie Mona, a blind lady who has many talents, and even some hidden superpowers. 
Finally, diversity teaches us about others, but also about ourselves. Allah (SWT) created us specifically different so that we get to know and understand one another (49:13). In our second story, "Writing Across the World," Shireen appreciates her own culture only when she learns about her Japanese pen pal's culture. Through contrast, Shireen discovers that she and her new friend have differences, but also they have a great deal in common. 
8 other products in the same category: