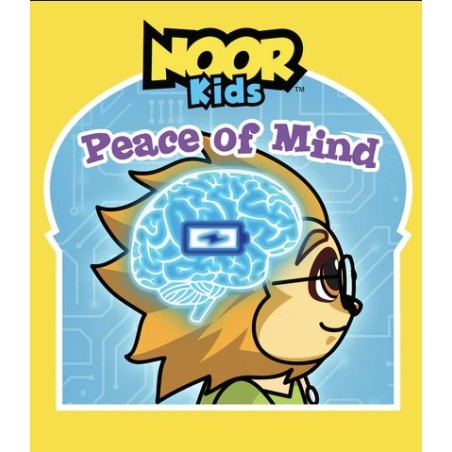  
Noor Kids: Peace Of Mind
See more details at www.noorkids.com
https://noorkids.com/products/peace-of-mind
Author

Noor Kids

Illustrator

Noor Kids

Publisher

Noor Kids

Date Published

N/A

Total Pages

N/A

Type

Comic Book
Picture Book

ISBN-13

N/A

Aisha's Rating

N/A

Possible Issues

Unreviewed

Reviewed

Unreviewed
Our Review
Synopsis:
Mental health is often seen as a taboo subject, but it is more relevant than ever in today's world. According to the Family & Youth Institute, 15-25% of American Muslims report anxiety disorders and 9-30% report mood disorders. Youth who struggle with their identity in the face of Islamophobia report the worst outcomes.
As parents, we must be aware of these challenges and do our part to support children in maintaining their mental well-being.It is vital to teach children the importance of having a balance in their lives and of sharing how they feel with their parents and trusted friends. The stress of performing well across all dimensions seems to be creating a lot of pressure for children. Whether it's sports, academics, or other co-curricular activities, children are often pushed to their limits in these various areas.
The importance of maintaining our mental health and living in a balance is emphasized in Islam. One example of this is when Prophet Mohammed (SAW) said, "Fast, as well as, eat and drink. Stand in prayer, as well as, sleep. This is because your body has a right upon you, your eyes have a right upon you, your wife has a right upon you, and your guest has a right upon you" [Bukhari]. 
In this book's first story, "Follow the Compass," Amira feels stressed out by the responsibility of organizing her school's end-of-year party. However, through the advice of a wise author, she learns how to manage her stress by living in a balance.
In our second story, "Making Progress," Amin is facing a difficult situation and is afraid to tell his parents about it because of how they might react. His anxiousness starts to negatively affect him. But he soon learns the importance of confiding in trusted family and friends.By teaching children the importance of mental health at an early age, we set them up to be happier and more productive members of society. No child should ever feel stressed or alone, and showing them how to deal with life's many situations will, insha'Allah, benefit them in the long run.
8 other products in the same category: