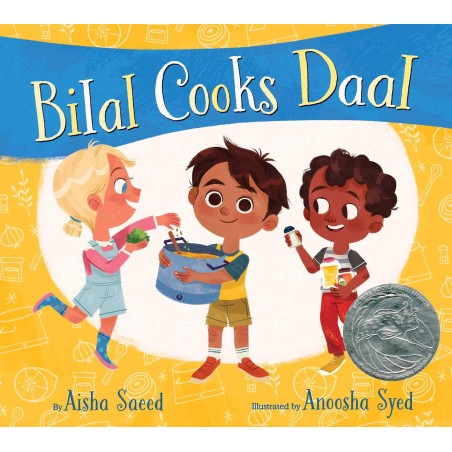  
Bilal Cooks Daal
Six-year-old Bilal is excited to help his dad make his favorite food of all-time: daal! The slow-cooked lentil dish from South Asia requires lots of ingredients and a whole lot of waiting. Bilal wants to introduce his friends to daal. They've never tried it! As the day goes on, the daal continues to simmer, and more kids join Bilal and his family, waiting to try the tasty dish. And as time passes, Bilal begins to wonder: Will his friends like it as much as he does?
Author

Aisha Saeed

Illustrator

Anoosha Syed

Publisher

Salaam Reads / Simon & Schuster Books for Young Readers

Date Published

06/04/2019

Total Pages

40

Type

Picture Book

ISBN-13

978-1534418103

Aisha's Rating

Possible Issues

None

Reviewed

Reviewed
Our Review

Brief Synopsis:
Why I like it: 
I love that the author chose daal – a dish that can be enjoyed by vegetarians, non-vegetarians and even vegans! Plus I like the highlight on daal as many overlook it despite it being a staple in many households!

There is representation of Pakistani/ Southeast Asian cultural food without any religious background (I got a book earlier titled Chaat and Sweets and loved the idea of the book but then on the last page they had one of the Hindu gods at the end!)

I like that it has a Pakistani protagonist. (While the text of the story doesn't state any nationality but the authors note at the end specifies that Bilal's grandparents were from Pakistan.) 

The story has a father-son relationship which was so refreshing to see! I was literally thrilled to see that the author chose a south asian father cooking daal! 

The illustrations show a multicultural group of friends

While waiting, the kids did outdoor activities like playing hopscotch, swimming and hiking! I liked that it promotes healthy play with peers. 

I love food themed picture books. It's great way to introduce various cultures around the world to kids!

I like that the author put a lesson in patience and sharing food with others. 

Bilal's excitement to share his favorite dish with his friends who have never tried daal before was delightful! Hopefully it gives readers the confidence to introduce their favorite dishes and be proud of their heritage, and be able to share it with their peers. 

I love the attention to detail with the fried onion and cilantro garnish. The mention of turmeric cumin and chilli and there's a bottle in the illustration that has masala written on it! 

The naan and daal combo is actually making me hungry just thinking about it – the illustrations are amazing! 

Because its mainstream publication – it can be found in public libraries!!
Things that could be improved: 
They could have thrown in some parents in the illustrations because there's like no parental supervision when the kids are in the pool and hiking into the woods! 
Additional Activities: 
The first time we read the book, it turned into a sensory activity. I brought out all the daals (luckily had all the ones mentioned in the book at the time!). The kids really enjoyed playing with it and identifying the various daals. Honestly I don't think the kids would have ever shown this much interest in daal if it weren't for this book!

While lentils are found in various cultures for people who have not had Pakistani style daal before, you can head down to a local desi restaurant and try it.

When I was in high school we had an annual multicultural night, where people from different countries had stalls (with food!) representing their home countries. Not sure if they still have those now, but this book with some daal in fancy prepackaged bowls would be awesome for that! Same thing can happen at an event at the masjid

For all the mommies who send in gifts during teacher appreciation week/holidays, this book makes an excellent gift for their classroom along with a gift card to a local desi restaurant. Also post-covid instead of the gift card, you can send in a little basket with the book and a ziplock with lentils and spice mix for them to try it at home (a great alternative to the DIY hot cocoa mugs!) 

Pinterest Board: click here
Overall: 
I absolutely love this book! And more importantly all the kids I've read it to, love it too! It's a simple everyday story that follows Bilal and his friends as they cook daal and patiently wait for it to cook. It is not a religious but a cultural book, representing Southeast Asian food specifically. I love the fact that authors are branching out into every day stories with Muslim characters! While books on religious topics (ie Salah, Ramadan, Hajj, etc) are very important, I believe it is equally important to have books like these!
It's a must have for all the Pakistanis/Desi people! Also a must have for a diverse library and for parents who want to raise culturally sensitive kids. I highly recommend it to everyone! 
The good thing about this book is that it's published by a mainstream so it's going to be available at your local library! (if its not you can easily ask the librarian to get it for you at no charge to you!) 
For all the mommies who send in gifts during teacher appreciation week/holidays, this book for their classroom along with a gift card to your local desi restaurant makes an excellent gift. Also post covid instead of the gift card, you can send in little basket with the book and a ziplock with lentils and spice mix! (a great alternative to the DIY hot cocoa mugs!) 
[ps. For US people, Amazon prime periodically has buy 3 for 2 books sale, and this book does go on sale during that promotion!]
Other Reviews:
Check out this Read Aloud by the Author on

Youtube
8 other products in the same category: