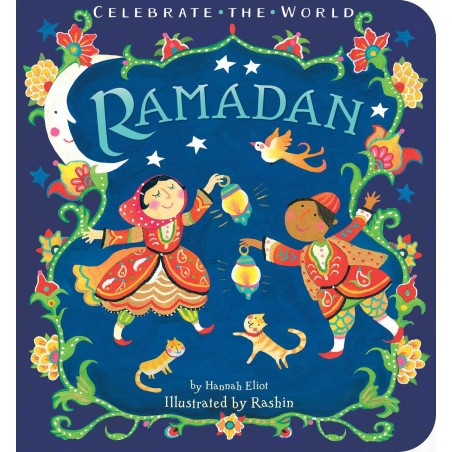  
Ramadan (Celebrate the World)
Learn all about the traditions of Ramadan with this first book in the brand-new board book series Celebrate the World, which highlights celebrations across the globe. In the ninth month of the year, when the first crescent moon rises in the sky, it's time to celebrate Ramadan! In this lovely board book with illustrations from Rashin Kheiriyeh, readers learn that Ramadan is a time to reflect on ourselves, to be thankful, and a time to help others.
Author

Hannah Eliot

Illustrator

Rashin Kheiriyeh

Publisher

Little Simon

Date Published

04/03/2018

Total Pages

24

Type

Board Book

ISBN-13

978-1534406353

Aisha's Rating

Possible Issues

Minor Illustration

Reviewed

Reviewed
Our Review

Why I like it:
It's a board book meant for toddlers and has simplified language

it covers all the basics of Ramadan

The Illustrations are lovely and show diverse characters in Rashin's particular art style. 

The story talks about fasting, helping others/good deeds, giving charity, eating a date at iftar then a meal with family, people engaging in work and school as usual, spending time with family, praying, watching for the crescent moon, Eid,etc
Things that could be improved:
In the illustrations, people are eating with their left hands (It wouldn't have been noticeable but it's on multiple pages!)

I'm also having issues with the prayer illustrations. My children haven't noticed those specific details so I have not brought it up yet either. 
Overall: 
It's a cute book and seems to be written for non-Muslims giving a basic overview of Ramadan and how Muslims celebrate it without getting into the "why" we celebrate it. There is no mention of Islam, Muslims, Allah, Quran, etc Also the main focus is doing good deeds!
Overall I've been debating all day whether I'm being too picky or not— because it IS geared towards little kids who would probably not notice any of the "issues" I'm talking about. Plus it would be a good addition for public school libraries. So that being said, I honestly don't know if I'm fixated on a few points and judging this book too harshly. But this is one book I would just borrow from the library and not purchase!
Other Reviews:
8 other products in the same category: