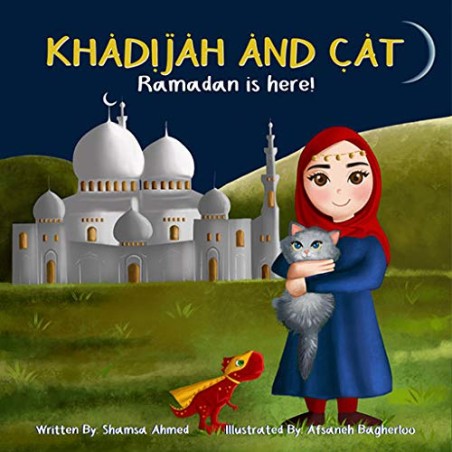  
Khadijah and Cat - Ramadan is here!
Join Khadijah and Cat as they go on a journey to learn and understand the meaningful month of Ramadan. Khadijah and Cat will help you understand this special month so you can join them and celebrate as well.
Author

Shamsa Ahmed

Illustrator

Afsaneh Bagherloo

Publisher

S2SPROUT

Date Published

01/01/2020

Total Pages

40

Type

Picture Book

ISBN-13

978-1734453102

Aisha's Rating

Possible Issues

None

Reviewed

Reviewed
Our Review

Brief Synopsis: 
It's a story about Khadijah and Cat and starts with them observing the crescent moon and announcing to everyone that Ramadan is here! 
Why I like it: 
The illustrations are lovely!

It talks about Ramadan being one of the five pillars.

Khadija and Cat learn about what Ramadan is all about - from reading Quran to being kind and generous 

The author wrote how it was time for iftar after "sunset and the fourth adhan" of the day was called" 

Khadija and Cat gave snacks and toys to their neighbours to share the joy of Ramadan

The story touches briefly on Laylat al Qadr

There is an invitation to the reader to join them for Ramadan.

There's a superhero dinosaur that the kids have to find on every page.

Theres a mini activity page at the end of the book!

There's a plush doll, cat, and dinosaur you can buy that goes along with the book!
Things that could be improved: 
I REALLY wish the author had written this book completely in prose. The story was half prose and half rhyme, and the rhyming was quite forced. This led to use of many awkward words which could have been avoided. This also led to a few lines just not making sense. For example - "They prayed, made dua, ate and thanked Allah for the wait" and "No matter what happens, no one can mess up this holy month"

The picture with everyone preparing for Ramadan is gorgeous! But the text says "everyone in town began, decorating their homes and streets to prepare as Ramadan was declared". "Declared" was unnecessary and changes the text to mean that the whole town prepares after Ramadan is declared which goes against what we do at home, which is prepare decorations before Ramadan so we have lots of time to focus on our prayers and good deeds.  

The invitation for trying a fast in Ramadan comes at the end after the story already mentions the last 10 nights have passed and when one would assume the next page would be about Eid. So that was confusing. Plus there was a spelling error.
Overall: 
I've wanted to buy this book since I saw the cover, but one thing or another came up and I just recently got it! The illustrations are super cute and it's very informative! 
Despite the way the text is, kids will really like the book simply because the illustrations are really attractive! Despite the way the text is, kids will really like the book because the illustrations are really attractive! My kid lovessss the book for cat!! She has gotten the book out several times and just enjoys looking at the pictures. We don't have any of the plush merchandise but I'm pretty sure it would have become her favorite! 
Other Reviews:
8 other products in the same category: