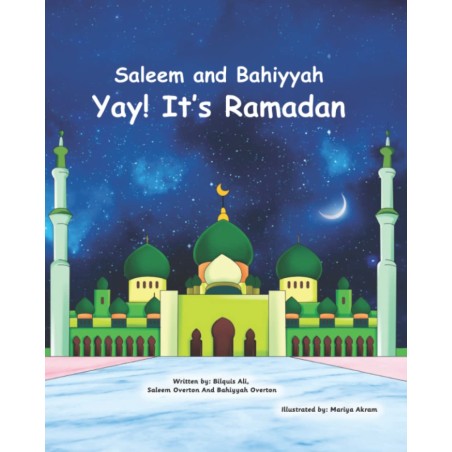  
Saleem and Bahiyyah Yay! It's Ramadan
This is a picture book for kids of all ages. The beautiful illustrations and the heartwarming story will awe your children and help them learn:
• WHAT is Ramadan
• WHY it is important
• HOW we celebrate Ramadan
It will help children start to comprehend the motions of Ramadan in a simple and fun way and spark their curiosity for further knowledge about Islam.
This is a must-have book for:
• Children who are curious about Ramadan and Islam.
• Teachers and librarians inculcating mutual respect, understanding and acceptance among children.
• Parents & care providers who want to foster religious literacy and teach children love.
Author

Bahiyyah Overton
Bilquis Ali
Saleem Overton

Illustrator

Mariya Akram

Publisher

Independently Published

Date Published

04/06/2022

Total Pages

34

Type

Picture Book

ISBN-13

979-8447901752

Aisha's Rating

N/A

Possible Issues

Unreviewed

Reviewed

Unreviewed
8 other products in the same category: