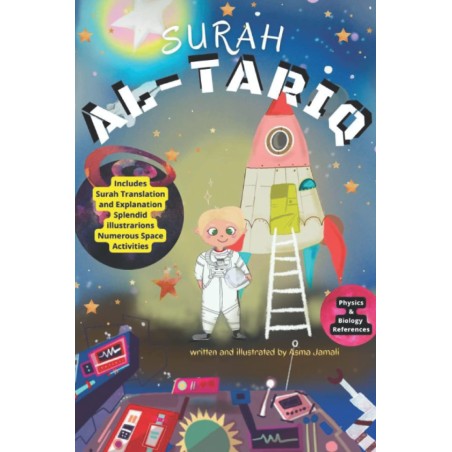  
Surah Al-Tariq Story Book
When Sara finds out that her brother is curious about stars, she tries to explain the idea of Surah Al-Tariq through Quran.
Surah Al-Tariq is not just an ordinary story book, but also a book that has several interesting space related activities.
The story will not only encourage your kid to explore and learn about Islam but also physics and biology at a very basic level.
Your kid will learn about
1-The meaning of Al-Tariq
2-Translation and deeper meaning of the Surah.
3- The human anatomy connection with the creation of the stars.
4- Splendid illustrations and activities to improve kids' cognitive abilities.
5-Cutting and Tracing activities that boost mental focus abilities.
Author

Asma Jamali

Illustrator

N/A

Publisher

Independently Published

Date Published

02/30/2022

Total Pages

48

Type

Picture Book

ISBN-13

979-8409520083

Aisha's Rating

N/A

Possible Issues

Unreviewed

Reviewed

Unreviewed
8 other products in the same category: