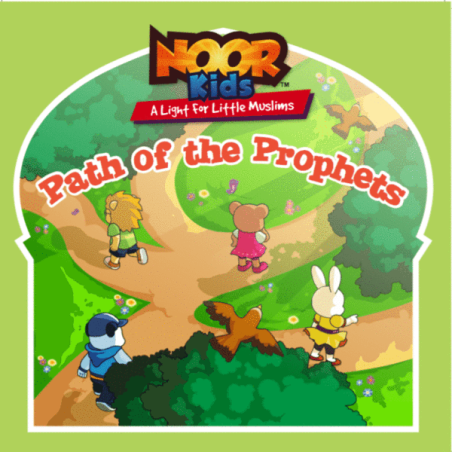  
Noor Kids: Path of the Prophets
Author

Noor Kids

Illustrator

Noor Kids

Publisher

Noor Kids

Date Published

N/A

Total Pages

N/A

Type

Comic Book
Picture Book

ISBN-13

N/A

Aisha's Rating

N/A

Possible Issues

Unreviewed

Reviewed

Unreviewed
Our Review
At Noor Kids, we strive to publish the highest quality Islamic children's material. While we try our best to ensure the content of each title is accepted by the breadth of diversity within the Muslim community, sometimes we make a mistake. In the title, "Path of the Prophets," we've made such a mistake. On the last page, which includes Arabic vocabulary. One of the words, "anbiya," which is translated as "Prophets," includes faceless human figures. Even though the faces of these individuals aren't depicted, these figures may not be accepted by some Muslims due to the connotation that these are Prophets. Please accept our sincere apology associated with this error.  
In the first story, The Peak of Perfection, Amira is full of questions about Christmas. Through Shaykh Tahir, she learns about Prophet Jesus (AS), and realizes that he is a role model for Muslims too!
In the second story, Show Me The Way, Asad and Mom are at Mountain Fair for the day. Crowds fill the pathways, and through an unfortunate turn of events. Sad ends up lost! Sad is taught a valuable lesson and figures out how to get back to Mom.
8 other products in the same category: