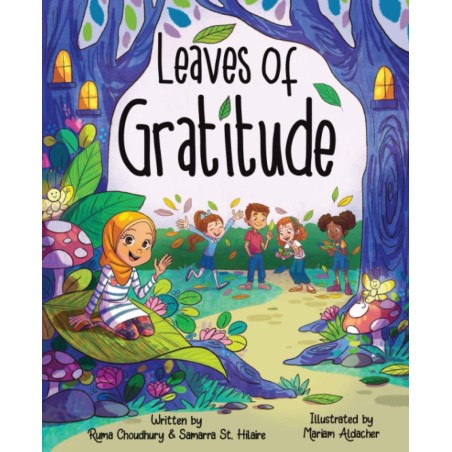  
Leaves of Gratitude
Everyone has something to be grateful for—big or small!
Nur has Luis, Mia, Kaylee, and her best friend, Zaynah to play with at recess and Mom to help her with her homework. Nur's life might be filled with love, laughter, and learning with her friends, but what makes Nur feel grateful? When Nur's second-grade teacher, Ms. Johnson, sets the class a special assignment, Nur needs to dig deep to reflect on what gratitude truly means.
This book provides the perfect opportunity for children to learn the real meaning of gratitude and identify the elements of their own lives that can inspire them to appreciate these gifts. Nur's assignment encourages her to think deeply, not just about her material possessions but also about people, situations, and community. 
Author

Ruma Choudhury
Samarra St. Hilaire

Illustrator

Mariam Aldacher

Publisher

Independently Published

Date Published

11/29/2021

Total Pages

27

Type

Picture Book

ISBN-13

978-1736933121

Aisha's Rating

N/A

Possible Issues

Unreviewed

Reviewed

Unreviewed
8 other products in the same category: