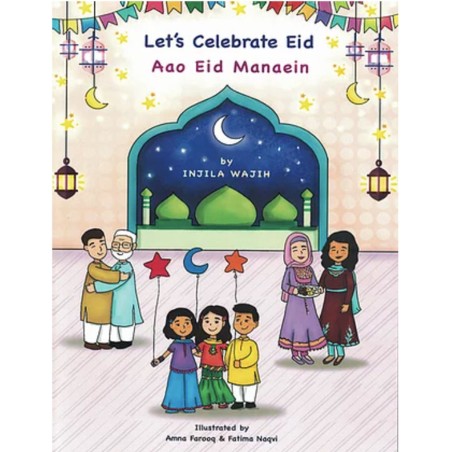  
Let's Celebrate Eid/ Aao Eid Manaein
Iman is excited to celebrate Eid with her family and friends. She just can't wait to wear her new gharara, eat sheer khorma and collect eidi. Iman's story will resonate with all the children who celebrate Eid.
Author

Injila Wajih

Illustrator

Amna Farooq
Fatima Naqvi

Publisher

Independently Published

Date Published

2021

Total Pages

N/A

Type

Picture Book

ISBN-13

N/A

Aisha's Rating

Possible Issues

None

Reviewed

Reviewed
Our Review

Why I like it: 
The story represents a Pakistani family and brings us one book closer to filling the diversity gap in kidlit. (While the text doesn't specify any country, the Glossary at the end says that the Gharara and Sheer Khorma are Pakistani clothes/desserts.) 

There's an author's note at the end briefly telling the readers about Eid-al Fitr.

The illustrations are cute and I just love all the eid outfits!! I like how it introduces readers to shalwar kameez and lenghas/gharara/shararas. 

Dada jaan (grandfather) is an essential part of the household and I enjoyed his loving role. From buying balloons and giving out Eidi to making sure to include an educational element to the day.  

I also liked how the Eid decorations (buntings, lanterns, and crescent moons) is what you would find in the contemporary Pakistani home in a western country. 

I also appreciated the diversity in characters (as much as there could be in the few characters of the story). The other day my daughter and nephew (both Pakistani!) were having a random innocent conversation about the difference in their skin colors, and I'm REALLY glad they are both represented in the story!
Things that could be improved: 
It's a short fun story that focuses on the little things kids enjoy about eid, and doesn't bring in any of the sunnahs of Eid. While I would have liked the addition of the sunnahs, this book is good for sharing with non-muslims as an Eid/Pakistani culture awareness book.

I hope the author brings out a version that has the urdu text as well. While this book is amazing for Pakistani children growing abroad and easier for them to understand/read it through roman urdu. I think it's important to include urdu text for the long run otherwise the language may die out after a generation or two.  

Also because its a book written by a muslim, I would have preferred "made dua" instead of "wished".
Additional Activities:
Draw/paint a picture of your family in their Eid clothes

Your children can write a story about the specific way your family shared Eid every year and you can keep them all in a memory box or have them made into a book later. 

Pinterest Board: click here
Overall: 
It has henna, bangles, eidi and sheer khorma – what's not to love!!! The story is told in english and then in roman-urdu at the bottom. 
This eid-al-fitr story begins with Iman being sad that Ramadan has ended but at the same time is excited for the eid festivities to begin. Then it's about the little things that makes Eid enjoyable for kids – new clothes with matching shoes, a special eid dessert called sheer khorma, a special eid breakfast with kebabs, chat patay aloo and parathas! (yes it made me hungry reading it!!!) putting on colorful bangles, and wishing that the henna turns dark red! The next after Eid prayer, Dada Jaan bought the children balloons, and then Imans cousins came over to visit. After everyone had wished each other Eid Mubarak, the most awaited part is included – getting Eidi from the elders! After that Dada Jaan calls all the kids to ask them to share one thing they had learnt during ramadan. This is where the kids share what Ramadan is about – "patience and gratitude," "sharing and giving charity" and "helping others". Dada jaan is happy with all the answers and the kids go play hide and seek. The story ends with Iman falling asleep happily with her bangles still on her wrists and Eidi envelopes next to her pillow!
Overall it's a unique book where the story is told so well in both english and roman urdu. The book doesn't have any sunnahs or religious aspects, and focuses more on the cultural aspect of how Pakistani's generally spend eid day. It's a book kids would want to take into school for story time to share with others about Eid as well as celebrate their cultural identity! This definitely becomes a must have for a diverse library and may encourage children to learn Urdu!
*I received this book from the author in exchange for an honest review. 
8 other products in the same category: