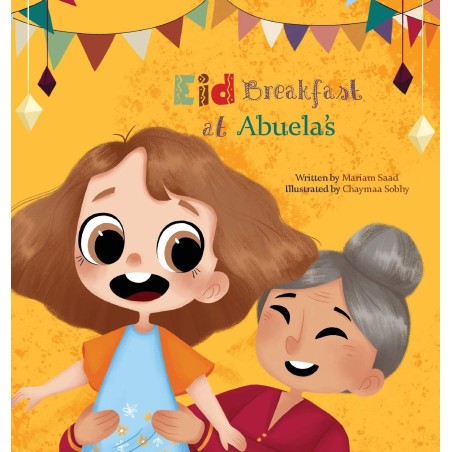  
Eid Breakfast at Abuelas
Join Sofia and her mom and dad who spend Eid - the Islamic holiday celebrating the end of Ramadan - with her Mexican grandmother, who is not Muslim but chooses to throw them a festive breakfast which includes traditional Mexican food, decorations, and activities. The book includes many Spanish words and a glossary as well to introduce the reader to simple words in Spanish and even Arabic.
Author

Mariam Saad

Illustrator

Chaymaa Sobhy

Publisher

Prolance

Date Published

09/10/2019

Total Pages

32

Type

Picture Book

ISBN-13

978-1733826747

Aisha's Rating

Possible Issues

None

Reviewed

Reviewed
Our Review

Synopsis:
The story starts with a little girl named Sophia on a plane with her family going to her Abuela's (grandmother) house. It briefly mentions that this Ramadan was special to her as she had tried fasting for the first time. On Eid-al Fitr Sophia and her family first visit the Masjid and then head over to her grandmother's house who is not a Muslim. The story describes how much her grandmother had missed her, and how she had decorated the house for Eid and made hispanic food. Then Sophia hangs out and plays with her cousins and shares with them tidbits of Arabic. The story ends with them taking a family photo, which Sophia adds to her scrapbook.
Why I like it:
I ABSOLUTELY love that the books represents Mexican/Hispanic Muslims

There was a Feliz Eid banner that her tio had made – teaches kids that there's more than one way to say "Eid Mubarak"

Learn lots of spanish words (with a glossary at the back!)

Sophia proudly tells her grandmother and cousins that shes learning three languages and shares some arabic words with her cousins (love the pride Sophia feels learning arabic!)

She also tells her cousin Jose, that his name is Yusuf in Arabic (again the author brings in diversity of how the same name is pronounced in different languages)

One of the best "interfaith" stories I've read without being preachy. Sophia's family was the only Muslim ones in their entire extended family, and they all got together to celebrate Eid with them despite being from different religions. It will really click with Muslim who are reverts and have non-muslim parents/family.
Activities:
You can discuss so much about Mexican/Hispanic culture with your kids through this book

Make some of the foods mentioned in the story like empanadas

Play a game of Loteria with your kids (you can google free printables)

Make a list of Names (maybe of the Prophets) and find out how to say them in English/Spanish/Arabic and your language if its different!

Have a Mexican/Hispanic themed Fiesta Party!

Do a Hispanic themed craft – maybe make a piñata!

Read more books with Hispanic characters
Overall:
I ABSOLUTELY love this book and it definitely adds to the diversity of our library. Alhumdulillah I've had the opportunity to travel quite a bit, and I'm currently living in a city with a large Hispanic population where I've met some amazing Hispanic people from Mexico and various countries in South America. Through them, I learnt that I loveee the Hispanic culture. Its just full of color, history and delicious food! Secondly I'm surprised that after all these years I just recently met a Hispanic Muslim for the first time- after which I realized how under-represented they are! This book is part of a collection I'm putting together for my kids that represent Muslims from all cultural backgrounds! I highly recommend it to all of you – regardless of your faith/background. It is a great book to raise culturally sensitive children who celebrate diversity!
8 other products in the same category: