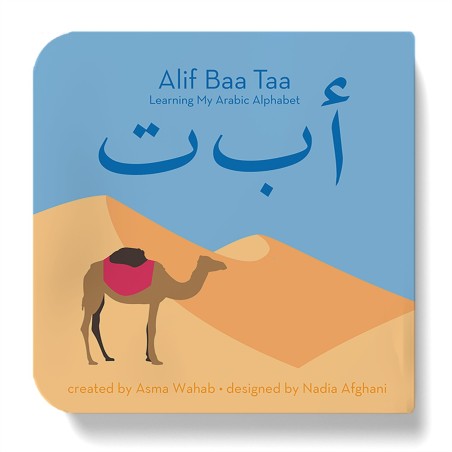  
Alif Baa Taa
**ONE OF A KIND vibrantly illustrated book teaches your toddler the Arabic alphabet with this modern, visually appealing board book.
**PERFECT for all ages, and anyone wanting to get familiar with the Arabic language.
**CLASSICAL Fus-ha Arabic with tashkeel is used throughout the book as well as English transliterations, to ensure non-native speaks can easily learn Arabic!
**CUSTOM AND MODERN illustrations and transliteration featured on each page.
**CHUNKY BOARDBOOK measures 6 inches x 6″ inches, making it easy for kids to handle, and built to last.
**TRACEABLE numbers and words help your child learn to write Arabic numbers, and words by using any dry erase marker to trace the letters.
Author

Asma Wahab

Illustrator

Nadia Afghani

Publisher

Civilian Publishing

Date Published

01/01/2018

Total Pages

30

Type

Board Book

ISBN-13

978-1948555005

Aisha's Rating

Possible Issues

None

Reviewed

Reviewed
Our Review

Brief Synopsis: 
It's a board book that teaches the Arabic alphabet. There is one letter per page, along with an object that begins with that letter. The last page includes all the letters. 
Why I like it: 
Every parent I showed the book to has said something like "oh wow this is reallyyyy good quality!"

The art work and design is modern 

All three books are excellent choices for babies! 

Since I am not an native arabic speaker I REALLY appreciated the transliteration at the bottom. I also liked that the author chose not to use the english words! It really puts the focus on learning the arabic words!!

The letters and numbers can be traced over with a dry erase! How great is that for preschoolers!

There's one letter per page which is IDEAL for infants. Almost all the pictures are high contrasting- makes it even better for babies! 

While it's ideal for babies, comments by 4-6 year olds have been:
"This is soo pretty!!"
"I LOVEE this book!"
"I want to learn these with my dad too!" 
Another target audience for this book is actually kids with autism who are learning arabic. I personally wasn't planning on introducing these books to my son (because we are working on him communicating in English first Inshallah). Anyhow he picked up the books by himself and was simply fascinated with the art work. 

The board books have thick pages and can be beneficial to kids who have difficulty turning pages and other special needs as well. 
Things that could be improved: 
One of the parents suggested that more pictures be added per letter. However, I personally believe that may be more overwhelming for baby. 
Additional Activities: 
Supplement the book with an arabic alphabet poster, blocks, puzzles, more books etc.

For a toddler, you can do crafts that go with each letter. For example Taa/Tufahah you can do an apple craft (you can find lots of ideas on pinterest/google)

Pinterest Board:  click here
Overall: 
These are really high quality books and perfect for babies and toddlers! They can actually be used by anyone learning the Arabic letters, colors, shapes, numbers and first words but they are ideal to introduce for the under 5 age group! They look like they will hold up well against biting, chewing, dragging, food spills, etc Plus the fact that the kiddos can trace the letters with dry erase is so awesome!
These are great as a baby shower gift! And to all expecting mommies who want their kids to learn Arabic, add this to your baby registries!
*I received this book in exchange for my honest review of the book
Other reviews: 
8 other products in the same category: