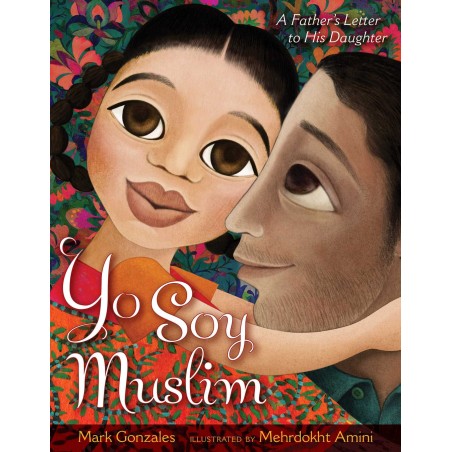  
Yo Soy Muslim: A Father's Letter to His Daughter
From Muslim and Latino poet Mark Gonzales comes a touching and lyrical picture book about a parent who encourages their child to find joy and pride in all aspects of their multicultural identity.
Dear little one,
…know you are wondrous.
A child of crescent moons,
a builder of mosques,
a descendant of brilliance,
an ancestor in training.
Written as a letter from a father to his daughter, Yo Soy Muslim is a celebration of social harmony and multicultural identities. The vivid and elegant verse, accompanied by magical and vibrant illustrations, highlights the diversity of the Muslim community as well as Indigenous identity. A literary journey of discovery and wonder, Yo Soy Muslim is sure to inspire adults and children alike.
Author

Mark Gonzales

Illustrator

Mehrdokht Amini

Publisher

Salaam Reads / Simon & Schuster Books for Young Readers

Date Published

08/29/2017

Total Pages

32

Type

Picture Book

ISBN-13

978-1481489362

Aisha's Rating

Possible Issues

None

Reviewed

Reviewed
Our Review

Synopsis:
The story starts with the father encouraging her daughter to climb high and laugh so that your smile touches the sky, and stay there a trip in a city of skyscrapers compared to the mayan pyramids. Then it becomes suddenly serious with -" that there are questions people will ask . Some people will not smile at you." But encourages her to have the confidence and tell them "yo soy muslim" and be proud of her muslim heritage. Then it talks about amazing things her ancestors have done. Her father encourages her again, "No matter what people say always know you are wondrous, a child of crescent moons, a builder of mosques, a decedent of brilliance, and an ancestor in training" Followed by more encouragement and what to say to people who ask questions, with lots of references to their Hispanic culture. Overall, the father reminds the girl about being Hispanic and Muslim, and to be proud of her heritage.
Why I like this book:
I love that it represents Muslims from Hispanic heritage and gives insight into their culture

I appreciate that its a letter from the dad. (I personally feel that dads are under-represented in our books)

The dad reminds his daughter that she should be proud of who she is, and where she comes from – and should remember her Hispanic heritage as well as her Muslim heritage.

I love that in the end, the father reminds her to pray. Such a good note to end the letter on
Activities:
You can talk to the children about the illustrations! – The girl's distinct clothes and culture.

Talk about the Mayan pyramids and bring some history into it

Talk about the desert landscape

Do a small project on Mexico or any of the South American countries

Talk about your own cultural identity and the similarities it shares with Hispanic culture

Have your child write a letter to a friend/relative (or to their future self) appreciating them and encouraging them to be proud of who they are.
Other Reviews:
Read Aloud on Youtube
8 other products in the same category: